lobster weasel? weasel lobster?
Awesome episode guys!
Was everyone but me aware, that the Immortal Association are the Deathless? I get that the names are pretty similar and all but somehow I was under the impression they were a competing PMC. So my first question would have been: How did YOU know, where to send your gift box and why were you sending it just now that we're under attack? A stangely convenient timing…
@Adam: By the grace of the connect skill but also in general: Is there a process to how you come up with awesome NPCs like that french Cygnus Lincoln monster doctor on the spot? Do you draw from previously created NPCs from other campaigns? Do you have a formula? Do you think of a particular character from a movie and convert on the spot? Impart your magic onto me, please!
If you track the faction turn, Serpens, the deathless and the Trilliant Ring made an alliance, which they called the Immortal Association. They sent a nice gift it seems.
Adam: after watching the post show it occurs to me that you might want to consider not telling the players what's the number to beat when doing a connect roll. Not knowing if it was a success will reduce meta-gaming and add to the tension.
Week 26 roll results and statistics:
---
Nomi Qa'a (AnneMunition):
Roll 1

Skill: Save
Attribute: Physical
Result: 13
Difficulty: 11
Outcome: Success
Roll 2

Skill: Notice - Assist
Attribute: Intelligence
Result: 7
Roll 3

Skill: Notice
Attribute: Intelligence
Result: 2
---
Bicky Tipp (ThatBronzeGirl):
Roll 1

Skill: Exert
Attribute: Dexterity
Result: 3
Roll 2

Skill: Notice
Attribute: Wisdom
Result: 10
Roll 3

Skill: Save
Attribute: Luck
Result: 19
Difficulty: 15
Outcome: Success
Roll 4

Skill: Notice - Assist
Attribute: Intelligence
Result: 10
Roll 5

Skill: Notice
Attribute: Intelligence
Result: 7
---
Crusader Gabriel (Sherlock_Hulmes):
Roll 1

Skill: Initiative
Attribute: Dexterity
Result: 6
Roll 2

Skill: Save
Attribute: Physical
Result: 8
Difficulty: 13
Outcome: Fail
Roll 3

Skill: Notice
Attribute: Intelligence
Result: 8
Roll 4

Skill: Notice - Assist
Attribute: Intelligence
Result: 9
Roll 5

Skill: Notice
Attribute: Wisdom
Result: 4
---
Booker Greaves (GassyMexican):
Roll 1

Skill: Exert
Attribute: Dexterity
Result: 7
Roll 2

Skill: Save
Attribute: Physical
Result: 10
Difficulty: 11
Outcome: Fail
Roll 3

Skill: Fix
Attribute: Intelligence
Result: 4
Roll 4

Skill: Notice
Attribute: Intelligence
Result: 8
Roll 5

Skill: Connect
Attribute: Charisma
Result: 6
Roll 6

Skill: Notice - Assisted+3
Attribute: Intelligence
Result: 12
Roll 7

Skill: Save
Attribute: Luck
Result: 20
Difficulty: 11
Outcome: Success
---
Average skill results

Nomi Qa'a: 4.500
Bicky Tipp: 7.500
Crusader Gabriel: 7.000
Booker Greaves: 7.400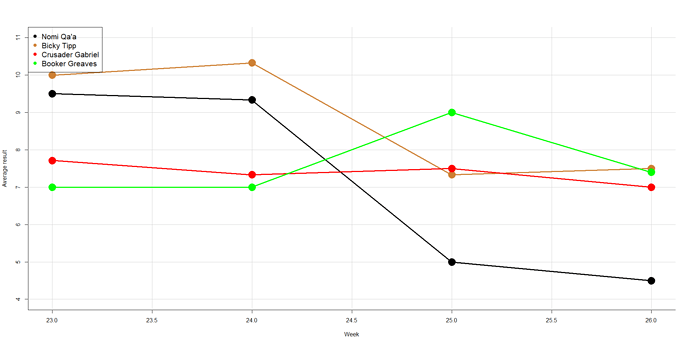 ---
Average skill score (2 points for 10+ rolls; 1 point for 7-9 rolls; 0 points for 6- rolls)

Nomi Qa'a: 0.500
Bicky Tipp: 1.250
Crusader Gabriel: 0.667
Booker Greaves: 0.800