even the fake is real, isn't it?
what's in the box, adam?!
Whaaaaaaaaats in the boooooooox!
Adam, what is your thought on letting them easily know that people are synths now? At first it was like they had no way to tell.
living people can't be identified.
corpses are easy to dissect.
Are all synths aware that they are synths? Because I really hope at least one of the players asked Adam at the beginning of the campaign for him to decide whether they were a synth or not and not to tell them.
So, I think the box is a synth reprogramming device, and when it didn't work on Fake Nomi, June knew she wasn't the real Nomi, and that's why she shot her. But now that the real Nomi watched the bright flashing lights through Fake Nomi's memory, and failed her save, she's been infected by whatever the payload was.
I recall there was a time when Adam asked Anne if Nomi was a synth, and gave her the option to let him decide and not tell her, so it seems it's possible to not know you're a synth. I don't think we ever heard if Anne had taken Adam up on the offer, so it's still a mystery.
@AdamKoebel I just watched the post-show, and I remember you said you have trouble accessing the comments on Patreon, so here's my submission for music box music: MEMORY
What an amazing last scene.
I already said so on twitter but I'll repeat it here. With the announcement coming out of a cast change I just want to say I'm sorry to see this cast go, as I genuinely enjoyed it very much. Thank you all for your time put into it and I hope I get to see all of you that are leaving the group for now in RollPlay shows again.
Damn all four leaving is a huge blow. I think this explains why JP seemed upset on CoS yesterday. Sad to hear them go, this is going to be tough to reboot but if anyone can do it they can.
So sad to see the departures. They're all great players and this is a great game.
I really don't know how it will feel when it's different because this show, with the factions, is just a unique thing in the RPG space.
Week 28 roll results and statistics:
---
Nomi Qa'a (AnneMunition):
Roll 1

Skill: Connect
Attribute: Charisma
Result: 6
Roll 2

Skill: Initiative +1
Attribute: Dexterity
Result: 4
Roll 3

Skill: Talk
Attribute: Charisma
Result: 13
Roll 4

Skill: Save
Attribute: Mental
Result: 6
Difficulty: 9
Outcome: Fail
---
Bicky Tipp (ThatBronzeGirl):
Roll 1

Skill: Talk
Attribute: Charisma
Result: 3
Roll 2

Skill: Perform - Assist
Attribute: Charisma
Result: 10
Roll 3

Skill: Connect
Attribute: Intelligence
Result: 11
Roll 4

Skill: Notice - Assist
Attribute: Intelligence
Result: 9
---
Crusader Gabriel (Sherlock_Hulmes):
Roll 1

Skill: Talk +1
Attribute: Charisma
Result: 9
Roll 2

Skill: Notice
Attribute: Intelligence
Result: 7
Roll 3

Skill: Talk
Attribute: Charisma
Result: 10
Roll 4

Skill: Notice - Assisted+1
Attribute: Wisdom
Result: 10
Roll 5

Skill: Notice - Assisted+1
Attribute: Intelligence
Result: 11
Roll 6

Skill: Sneak
Attribute: Dexterity
Result: 8
---
Booker Greaves (GassyMexican):
Roll 1

Skill: Lead
Attribute: Charisma
Result: 8
Roll 2

Skill: Notice - Assist
Attribute: Intelligence
Result: 7
Roll 3

Skill: Save
Attribute: Luck
Result: 20
Difficulty: 11
Outcome: Success
Roll 4

Skill: Lead
Attribute: Charisma
Result: 8
Roll 5

Skill: Notice - Assisted+1
Attribute: Wisdom
Result: 12
Roll 6

Skill: Connect
Attribute: Charisma
Result: 11
Roll 7

Skill: Heal
Attribute: Intelligence
Result: 11
---
Average skill results

Nomi Qa'a: 7.667
Bicky Tipp: 8.250
Crusader Gabriel: 9.167
Booker Greaves: 9.500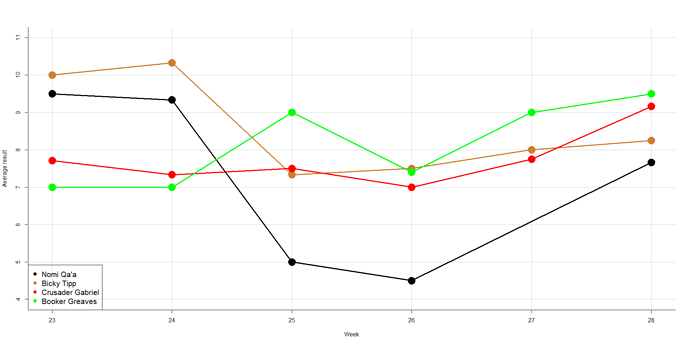 ---
Average skill score: (2 points for 10+ rolls; 1 point for 7-9 rolls; 0 points for 6- rolls)

Nomi Qa'a: 0.667
Bicky Tipp: 1.250
Crusader Gabriel: 1.500
Booker Greaves: 1.500