everyone on fire inside here
Here's hope for a scene of Yancy reading the report from this episode as a pillowbook.

i kinda wanna know how the assassin person escaped since there was evidence of them being there
So do Booker and the Crusader!
Was there a comment at the end of the session about the politics of the comptroller election resolving itself while the PCs deal with the assassins? That would make sense from a realism standpoint, but I'm really excited to see that conflict happen.
Just hoping that was me mishearing Adam.
Aquila for Comptroller!

Oh, I was joking around about that!
Part of me just wants a coked-up Gabriel and Booker to fight the cops with the power of PUNCHING.
Is there any potential risk of Gabriel getting hooked on stims? I seem to vaguely remember there being something about that as a risk in the book but it's been a little while since I read it over.
I feel like Adam threw Booker and Gabriel a lot of bones that scene, and it seems fitting they were drugged up on Lift, as they chased a red herring instead. Was there any chance for them to find the assassin?
Week 27 roll results and statistics:
---
Nomi Qa'a (AnneMunition):

No rolls
---
Bicky Tipp (ThatBronzeGirl):

Roll 1

Skill: Notice
Attribute: Intelligence
Result: 7

Roll 2

Skill: Program
Attribute: Intelligence
Result: 9

Roll 3

Skill: Save
Attribute: Luck
Result: 3
Difficulty: 15
Outcome: Fail
---
Crusader Gabriel (Sherlock_Hulmes):

Roll 1

Skill: Save
Attribute: Physical
Result: 3
Difficulty: 13
Outcome: Fail

Roll 2

Skill: Save
Attribute: Physical
Result: 19
Difficulty: 13
Outcome: Success

Roll 3

Skill: Attack
Result: 8
Hit: -
Damage: 0

Roll 4

Skill: Attack
Result: 13
Hit: -
Damage: 0

Roll 5

Skill: Notice - Assist
Attribute: Intelligence
Result: 4

Roll 6

Skill: Know
Attribute: Intelligence
Result: 7

Roll 7

Skill: Notice
Attribute: Intelligence
Result: 8

Roll 8

Skill: Notice - Assist
Attribute: Intelligence
Result: 12
---
Booker Greaves (GassyMexican):

Roll 1

Skill: Sneak
Attribute: Dexterity
Result: 6

Roll 2

Skill: Notice
Attribute: Intelligence
Result: 10

Roll 3

Skill: Initiative
Attribute: Dexterity
Result: 3

Roll 4

Skill: Attack
Result: 21
Hit: +
Damage: 12

Roll 5

Skill: Attack
Result: 5
Hit: -
Damage: 0

Roll 6

Skill: Attack
Result: 22
Hit: +
Damage: 0

Roll 7

Skill: Punch
Attribute: Dexterity
Result: 8

Roll 8

Skill: Attack
Result: 6
Hit: -
Damage: 0

Roll 9

Skill: Fix
Attribute: Intelligence
Result: 4

Roll 10

Skill: Attack
Result: 16
Hit: +
Damage: 3

Roll 10

Skill: Attack
Result: 11
Hit: -
Damage: 0

Roll 11

Skill: Shoot+3
Attribute: Dexterity
Result: 16

Roll 12

Skill: Attack
Result: 21
Hit: +
Damage: 3

Roll 13

Skill: Attack
Result: 22
Hit: +
Damage: 2

Roll 14

Skill: Exert
Attribute: Dexterity
Result: 6

Roll 15

Skill: Attack
Result: 24
Hit: +
Damage: 4

Roll 16

Skill: Notice
Attribute: Intelligence
Result: 10

Roll 17

Skill: Know
Attribute: Wisdom
Result: 6

Roll 18

Skill: Talk+2
Attribute: Charisma
Result: 9

Roll 19

Skill: Punch
Attribute: Dexterity
Result: 10

Roll 20

Skill: Notice - Assisted+1
Attribute: Intelligence
Result: 12

Roll 21

Skill: Notice
Attribute: Intelligence
Result: 11
---
Average skill results

Nomi Qa'a: No rolls
Bicky Tipp: 8.000
Crusader Gabriel: 7.750
Booker Greaves: 9.000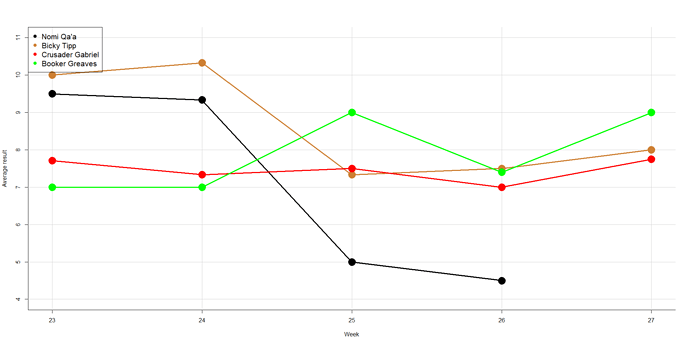 ---
"Average skill score: 2 points for 10+ rolls; 1 point for 7-9 rolls; 0 points for 6- rolls

Nomi Qa'a: No rolls
Bicky Tipp: 1.000
Crusader Gabriel: 1.000
Booker Greaves: 1.167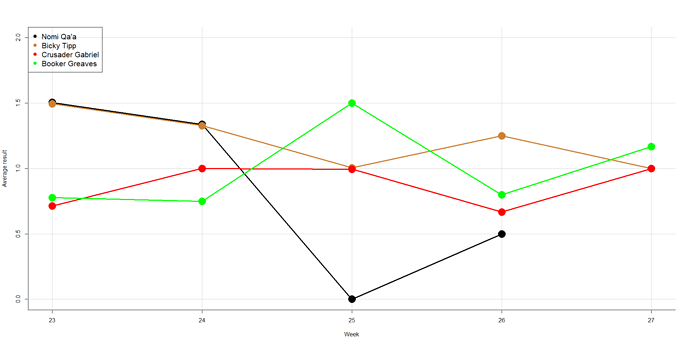 ---
Average attack and saving throw results

Nomi Qa'a: No rolls
Bicky Tipp: 3.000
Crusader Gabriel: 10.750
Booker Greaves: 16.444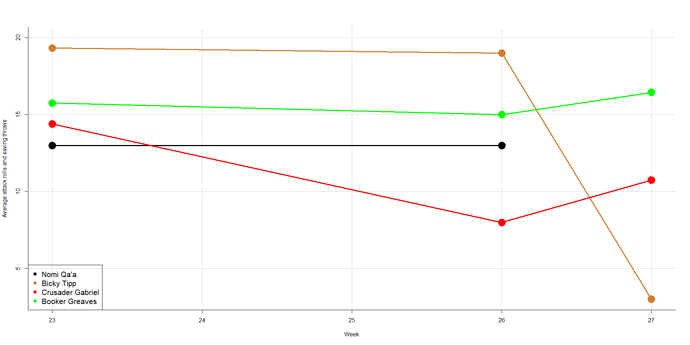 ---
Damage dealt

Nomi Qa'a: 0
Bicky Tipp: 0
Crusader Gabriel: 0
Booker Greaves: 24