big climactic business, everyone!
SHE'S BICKY TIPP AND SHE DOESN'T ANSWER TO YOU!
The fact that the mech worked changed the fight drastically. I am honestly flabbergasted. Booker better receive some recognition from the rest of the crew for this.
NICOLA <3 I love her so much. Did you roll to see if she caught the aunt?
Bicky Tipp is such a badass Deathless. 10/10 Bronze, 10/10.
KOSCHEI IS!
this is great thank you

I did! She's so brave by accident.
Literally what I expected when he made the first pilot roll.
Adam, so is your previous FV GM prep not going to be used?
Also I hope Booker gets commendations and stuff because he saved everything… Or he gets in trouble ruining an experimental mech.
Amazing episode from start to end. Reposting a meme from early in the episode: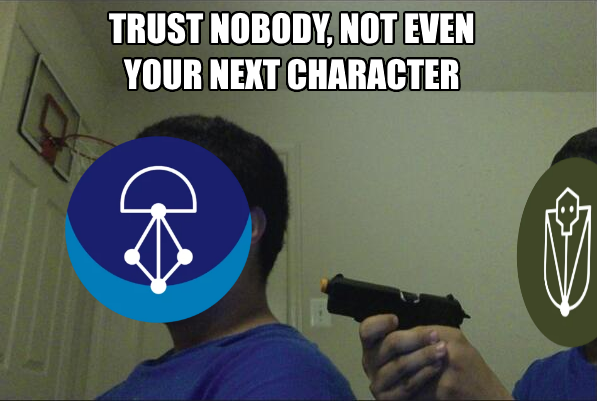 Absolutely great episode, perfect mix of danger, fun, creativity and fighting that a combat episode needs imo.
Key winners tonight:
-Deathless for having a badass character in the PC crew now
-The PC crew because they survived an ACRE assault and made all the right choices
-The Prudence captain because she made a great choice as well apparently and the ship seems fine
-Fornax mech builders - looks like their mechs can both endure a decent amount while dishing out some good damage too, even with an amateur pilot
It's so appropriate a Thundergun returned to Rollplay on a show where a player spent a lot of the setup for combat arguing fictional positioning that had nothing to do with game mechanics that resulted in absolutely no advantage at all. The truest of Geoff Robinson tributes.
That was a great episode with an even better episode title like omg.
Also, poor Nicola. She's too pure for this world
i, too, am glad that people noticed this.
That whole thing was just so perfect. My only complaint is that there isn't another episode for a whole :checks watch: 6 more days. I'm so friggin psyched for Imperial Prime and to get to know Bicky Tipp better.
Can I just appreicate that Cecilia is such a rich NPC even though they aren't around right now? She cared enough to make the mech recognize Booker and kept a picture. It shows alot of Personality and its a serious trust towards booker…or a middle finger to crux.