hell of a party, everyone.
Did any of the paint rub off of Yotta when the enthralled were all over him?
Could our Bug friend have learned some of his medical skills from his mara patron? A certain Doctor, perhaps?
Also, could Berg get a third eye that opens during his zen rage?
1 do you think the flesh crafter would be fasinated by fecal matter? becuase you said no one pooped in this realm right
2 if max wanted to ask the fleshcrafter for 2 extra arms would he gain 2 additonal attacks? or would it require him to get 3 extra weapons and some kind of additional ability?
3,4 this a very out of knowhere question (and very dark) but you said in a previous episode that if they ever went to fight the mara that the final big bad would be a gaint dick creature NOW that being said do you think one of these citys in the realm of the mara would be a place where the main currency is pleasure of the flesh ? and the "nobels" of the city keep sex slaves (and this where it gets dark) would you ever put a player in a situation where they are unwillingly violated?
5 does the queen and the page know the players are from the realm of light?
6 and even if they dont know they came from the realm of light why would they want him to escape?
7 is medical common knowledge in CoS not advanced enough for people like mahrib to know that any blood that the body looses the body will slowly replace over the course of a few hrs as long as its not to sever of a injury and or the person didnt loose to much blood at once?
8,9,10,11 ok so gun princess how much can you tell us as a result of the blood trans-fusion will she poop now? does she gain any character buffs from this? if she could see in the dark before did she loose that ability? does the food of the court of void now taste bad to her???
12 if yotta had asked did the queen and page know how to send the player back to the realm of light?
Also, could she survive in the courts?! With that bit of juice in her now?
Will it be possible for Yotta to recover not only his Jug but his other possessions? For example the Key to the Door to Heaven? I have no idea if it would be possible for the Mara to access Heaven from the Void, but if the Key is real and the Mara realise what the Key is and are able to use it, then that would spell DISASTER.
Another great episode and the World of the Mara is fascinating to watch the PC's interact with and find out how it works.
Oh definitely.
Hard to saaaaaay, but certainly possible.
That's rad, i'd love to tie it to a specific ability. Maybe one of the end-tier Zealous ones.
They'd probably have no idea what it was, honestly.
Oh, no that would be a HUGE change to the action economy of the game.
Nah, I like doing weird dark stuff, but I don't want players to feel trapped, uncomfortable, etc.
They do!
Because the King is their rival and they hate her.
I don't know how advanced hematology is, but yeah, he'd maybe have some idea.
She's changed, absolutely. We'll see what that looks like.
I think they probably don't really know.
@AdamKoebel few more questions
If Utrix had a Kirin in his realm as a guardian, what was the of the creature in Innana's realm?
You used the similarities of Avatar the Last Airbender's city Ba Sing Se so it can look like the Brass City right?
Also in the last time @Ezekiel_III mentioned about a Dragonborn born of the Mara is that something in that world?
Are we going to see Nega Berg come back?
Zeke got a critical success to Persuade the Queen so he'll hold up his end of the bargain as best he possibly can.
Thank you!
Which creature do you mean?
I've actually never seen Avatar! But I hear the similarities are there.
No Dragonborn in the Court of the Void
oh, he's out there
The creature the one guarding her and explaining what she was mourning over to the party? That creature.
And I don't mean in Court of the Void I mean on the other side
That's good. So best possible outcome would be that Yotta regains all of his possessions and no one realises anything special about the Key (if indeed it is really a Key to Heaven)? Or worst case scenario Yotta only gets his Jug back but none of his other possessions and someone realises about the Key?
You're welcome. This show is a highlight of my week and it is always so damn good.
hmmm, the one with the silver sword?
oh especially not, no.
Yes the one with the silver sword and who was like 8 feet tall and had teeth all jagged and stuff
ohhhhh she was a githyanki!
Those are like the ones that went to War with the Githzerai right?
Am I the only one who really wants a Gunprincess & Bugfucker cartoon? I love those two.
That was exactly, what I was thinking. Imagine Devil Jin but instead, BERG!, Oh my god, nice big horns, bigger tusks, a devilish 3rd eye that opens when bringing forth the ultimate power, enormous dragon wings. Just imagine the possiblities. Hell, give him a fucking laser as well, why not!
Week 109 roll results and statistics:
---
Ramus Krill (DansGaming):

Roll 1

type: Skill check
Skill: Insight
Roll: 17
Modifier: +9
Result: 26
Advantage: 0

Roll 2

type: Skill check
Skill: Deception
Roll: 14
Modifier: -1
Result: 13
Advantage: +

Roll 3

type: Skill check
Skill: Deception
Roll: 13
Modifier: -1
Result: 12
Advantage: 0

Roll 4

type: Skill check
Skill: Deception
Roll: 15
Modifier: -1
Result: 14
Advantage: 0

Roll 5

type: Skill check
Skill: Insight
Roll: 16
Modifier: +9
Result: 25
Advantage: 0

Roll 6

type: Skill check
Skill: Initiative
Roll: 12
Modifier: +2
Result: 14
Advantage: 0

Roll 7

type: Skill check
Skill: Athletics
Roll: 16
Modifier: 0
Result: 16
Advantage: 0

Roll 8

type: Skill check
Skill: Acrobatics
Roll: 8
Modifier: +2
Result: 10
Advantage: 0

Roll 9

type: Skill check
Skill: Acrobatics
Roll: 4
Modifier: +2
Result: 6
Advantage: 0

Roll 10

type: Skill check
Skill: Acrobatics
Roll: 20
Modifier: +2
Result: 22
Advantage: 0
---
Yotta Zō (Ezekiel_III):

Roll 1

type: Skill check
Skill: Insight
Roll: 16
Modifier: +7
Result: 23
Advantage: 0

Roll 2

type: Save
Skill: Charisma
Roll: 9
Modifier: -1
Result: 8
Advantage: 0

Roll 3

type: Skill check
Skill: Persuasion
Roll: 20
Modifier: +3
Result: 23
Advantage: 0

Roll 4

type: Skill check
Skill: Insight
Roll: 4
Modifier: +7
Result: 11
Advantage: 0

Roll 5

type: Skill check
Skill: Performance
Roll: 19
Modifier: +8
Result: 27
Advantage: 0

Roll 6

type: Skill check
Skill: Sleight of Hand
Roll: 14
Modifier: +4
Result: 18
Advantage: 0

Roll 7

type: Skill check
Skill: Deception
Roll: 5
Modifier: -1
Result: 4
Advantage: +

Roll 8

type: Skill check
Skill: Initiative
Roll: 11
Modifier: +4
Result: 15
Advantage: 0

Roll 9

type: Save
Skill: Wisdom
Roll: 16
Modifier: +3
Result: 19
Advantage: +

Roll 10

type: Save
Skill: Dexterity
Roll: 20
Modifier: +8
Result: 28
Advantage: +

Roll 11

type: Skill check
Skill: Acrobatics
Roll: 8
Modifier: +4
Result: 12
Advantage: 0

Roll 12

type: Skill check
Skill: Acrobatics
Roll: 19
Modifier: +4
Result: 23
Advantage: 0

Roll 13

type: Skill check
Skill: Acrobatics
Roll: 3
Modifier: +4
Result: 7
Advantage: 0

Roll 14

type: Skill check
Skill: Acrobatics
Roll: 16
Modifier: +4
Result: 20
Advantage: 0

Roll 15

type: Skill check
Skill: Sleight of Hand
Roll: 6
Modifier: +4
Result: 10
Advantage: 0

Roll 16

type: Attack
Roll: 18
Modifier: +8
Result: 26
Advantage: 0
Hit: +
Damage: 10
FirstAtkRnd: 16

Roll 17

type: Attack
Roll: 16
Modifier: +8
Result: 24
Advantage: 0
Hit: +
Damage: 7
FirstAtkRnd: 16

Roll 18

type: Attack
Roll: 15
Modifier: +8
Result: 23
Advantage: 0
Hit: +
Damage: 12
FirstAtkRnd: 16
---
Berg (GassyMexican):

Roll 1

type: Skill check
Skill: Insight
Roll: 16
Modifier: -2
Result: 14
Advantage: 0

Roll 2

type: Skill check
Skill: Initiative
Roll: 19
Modifier: +1
Result: 20
Advantage: +

Roll 3

type: Skill check
Skill: Athletics
Roll: 16
Modifier: +8
Result: 24
Advantage: 0

Roll 4

type: Skill check
Skill: Athletics
Roll: 10
Modifier: +8
Result: 18
Advantage: 0

Roll 5

type: Attack
Roll: 4
Modifier: +9
Result: 13
Advantage: 0
Hit: +
Damage: 21
FirstAtkRnd: 5

Roll 6

type: Attack
Roll: 4
Modifier: +9
Result: 13
Advantage: 0
Hit: +
Damage: 22
FirstAtkRnd: 5

Roll 7

type: Save
Skill: Dexterity
Roll: 12
Modifier: +1
Result: 13
Advantage: 0
---
Maharib (itmeJP):

Roll 1

type: Skill check
Skill: Athletics
Roll: 6
Modifier: +9
Result: 15
Advantage: 0

Roll 2

type: Save
Skill: Intelligence
Roll: 9
Modifier: +1
Result: 10
Advantage: 0

Roll 3

type: Skill check
Skill: Insight
Roll: 9
Modifier: -1
Result: 8
Advantage: 0

Roll 4

type: Skill check
Skill: Persuasion
Roll: 13
Modifier: -2
Result: 11
Advantage: +

Roll 5

type: Skill check
Skill: Persuasion
Roll: 2
Modifier: -2
Result: 0
Advantage: 0

Roll 6

type: Skill check
Skill: Deception
Roll: 10
Modifier: -2
Result: 8
Advantage: 0

Roll 7

type: Save
Skill: Intelligence
Roll: 16
Modifier: +1
Result: 17
Advantage: +

Roll 8

type: Skill check
Skill: Medicine
Roll: 9
Modifier: -1
Result: 8
Advantage: 0

Roll 9

type: Skill check
Skill: Insight
Roll: 2
Modifier: -1
Result: 1
Advantage: 0

Roll 10

type: Save
Skill: Constitution
Roll: 11
Modifier: +9
Result: 20
Advantage: 0

Roll 11

type: Save
Skill: Constitution
Roll: 13
Modifier: +9
Result: 22
Advantage: 0
---
Adam Koebel:

Roll 1

type: Skill check
Skill: ?
Result: 17
Advantage: 0

Roll 2

type: Skill check
Skill: Athletics
Result: 3
Advantage: 0

Roll 3

type: Skill check
Skill: Perception
Result: 13
Advantage: +

Roll 4

type: Skill check
Skill: ?
Result: 8
Advantage: 0

Roll 5

type: Skill check
Skill: Initiative
Result: 20
Advantage: 0

Roll 6

type: Skill check
Skill: ?
Result: 16
Advantage: 0

Roll 7

type: Skill check
Skill: ?
Result: 18
Advantage: 0

Roll 8

type: Skill check
Skill: Athletics
Result: 20
Advantage: +

Roll 9

type: Skill check
Skill: Athletics
Result: 16
Advantage: +

Roll 10

type: Skill check
Skill: ?
Result: 4
Advantage: 0

Roll 11

type: Save
Skill: ?
Result: 13
Advantage: 0

Roll 12

type: Attack
Result: 17
Target: Berg
Advantage: 0
Hit: -
Damage: 0

Roll 13

type: Attack
Result: 17
Target: Berg
Advantage: 0
Hit: -
Damage: 0

Roll 14

type: Skill check
Skill: ?
Result: 15
Advantage: 0

Roll 15

type: Damage
Damage: 7
Target: Berg

Roll 16

type: Save
Skill: Constitution
Result: 21
Advantage: 0

Roll 17

type: Skill check
Skill: Insight
Result: 15
Advantage: 0

Roll 18

type: Skill check
Skill: ?
Result: 5
Advantage: 0
---
Average Results

Ramus Krill: 15.800
Yotta Zō: 17.833
Berg: 16.429
Maharib: 10.909
Adam Koebel: 14.000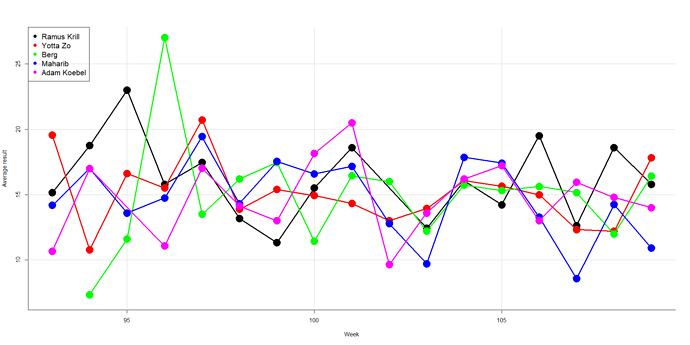 ---
Average Rolls

Ramus Krill: 13.500
Yotta Zō: 13.056
Berg: 11.571
Maharib: 9.091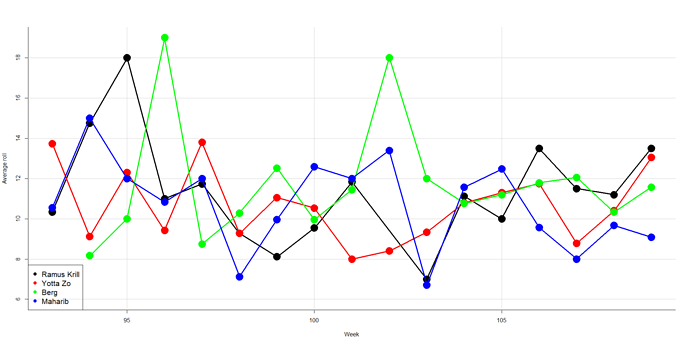 ---
Damage dealt

Ramus Krill: 0
Yotta Zō: 29
Berg: 43
Maharib: 0
Adam Koebel: 7
---
Damage taken

Ramus Krill: 0
Yotta Zō: 0
Berg: 7
Maharib: 0
---
Maharib has now rolled below average in the last 4 episodes
On the other hand, Ramus has rolled above average in the last 4 episodes